NSG Private Client Managers
Welcome to our brand new SERVICE BASED business model for the ultimate in financial guidance and security!!
First let's look at the problem
Does this look familiar?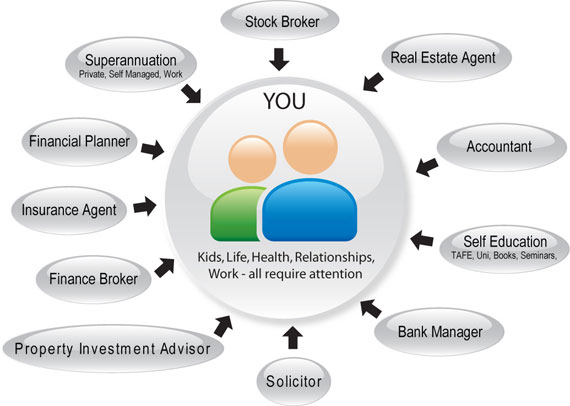 Navigating this maze takes more time, knowledge and confidence than the average Australian is able to muster or commit to. And yet mastering this realm is an absolute essential task if we are to secure our financial position.
How would you like your very own Private Client Manager to help guide you through the maze and confusion that is today's world of finance and investment?
Well, after more than 25 years of experience within the industry we believe we have the best possible solution to this common problem.
We are a diverse financial services organisation who have designed a unique service where we appoint your very own "Private Client Manager".

Our NSG Membership Program
Through a very affordable membership program (starts at $25 per month)you have almost unlimited access to your private client manager who will help coordinate and match the services of the group to your very specific needs.
Professional Standards, Collaborative Partnerships.
The membership also includes a wide range of services such as:
Annual Tax returns,
Investment property guidance and advice,
A preliminary financial planning review,
A loan rate and structure review,
A comprehensive Insurance ,
Introduction to share trading weekend workshop,
Ongoing mentor-ship
Our aim and corporate objective is to ensure a tailored and collaborative delivery of the entire range of services and advice that you require throughout your entire life as you move towards financial independence.
Through the collective of the NSG divisions, our areas of specialty are:
Finance,
Accounting,
Property investment,
Direct Shares,
Financial Education,
Financial Planning Superannuation,
Asset protection,
Insurance